Endive, Apples, and Grapes Recipe from Bon Appetit Magazine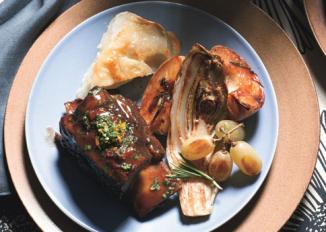 This deliciously unusual recipe (sweet, savory, herbal) is from French Chef Alain Passard. Published in Bon Appetit Magazine.
Ingredients
2 large unpeeled tart-sweet apples (such as Fuji or Gala)
1 ½ tablespoons salted butter
2 large heads of endive (12 to 16 ounces total), halved lengthwise
4 small clusters green grapes
5 small fresh rosemary sprigs
1 cup Fleur de sel or other sea salt
2-3 tablespoons water
Instructions
Quarter and core apples. Using vegetable peeler, shave off thin strip of peel down center of each apple quarter, leaving remaining peel intact. Melt butter in large nonstick skillet over medium-low heat. Add endive, cut side down, to skillet. Add apple wedges, 1 cut side down, to skillet. Add grape clusters and scatter rosemary sprigs over; cook, uncovered, without turning or stirring, until endive is caramelized on bottom and apples are just tender, 15 to 20 minutes. Carefully turn endive, apples, and grapes over; baste with liquid in skillet and cook until apples are very tender, 5 to 10 minutes longer. Season with fleur de sel and freshly ground black pepper. Transfer endive mixture to platter. Add 2 to 3 tablespoons water to skillet, scraping up any caramelized bits, forming small amount of sauce. Spoon sauce over endive mixture and serve.
Nutritional Information
One serving contains: Calories (kcal) 146.0 %Calories from Fat 29.6 Fat (g) 4.9 Saturated Fat (g) 2.9 Cholesterol (mg) 11.4 Carbohydrates (g) 26.9 Dietary Fiber (g) 7.3 Total Sugars (g) 17.8 Net Carbs (g) 19.6 Protein (g) 2.3 Sodium (mg) 62.6
Discover more endive recipes on endive.com.