Endive Salad with Stilton and Apples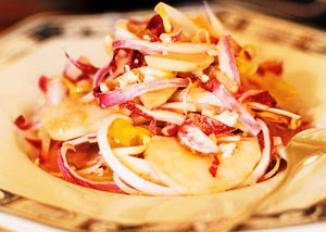 Ingredients
6 shallots (about 1 oz. each), peeled
About 1/2 cup extra-virgin olive oil
6 tablespoons red wine vinegar
1 1/2 tablespoons Dijon mustard
1/2 teaspoon sugar
2 Granny Smith or Newtown Pippin apples (1 lb. total), rinsed
1 pound white endive (see notes)
1 pound red endive or red radicchio (see notes)
2/3 pound Stilton cheese, crumbled
Salt and pepper
Instructions
1. In an 8- or 9-inch-wide pan, mix shallots with about 1 teaspoon olive oil. Bake in a 350° oven, stirring occasionally, until shallots are slightly browned and barely tender when pierced, about 40 minutes (20 to 25 minutes in a convection oven). When cool enough to touch, finely chop.
2. In a wide bowl, mix shallots, 1/2 cup olive oil, vinegar, mustard, and sugar. Peel apples, quarter, core, and cut lengthwise into 1/8-inch slivers. Add to bowl and mix with dressing.
3. Cut white and red endive lengthwise into 1/8-inch-wide slices. Add endive and cheese to bowl. Mix gently, and season salad to taste with salt and pepper. Serves 10-12. Sunset Magazine, November 2000.
Notes
Up to 1 day ahead, roast and chop shallots (step 1); chill airtight. Trim discolored ends from endive (or radicchio); rinse leaves, drain, wrap in towels, enclose in a plastic bag, and chill at least 15 minutes or up to 1 day.
Discover more endive recipes on endive.com.