Cauliflower, White Bean, Endive & Feta Salad
Submitted by
Molly Collins
on Tue, 04/01/2014 - 08:22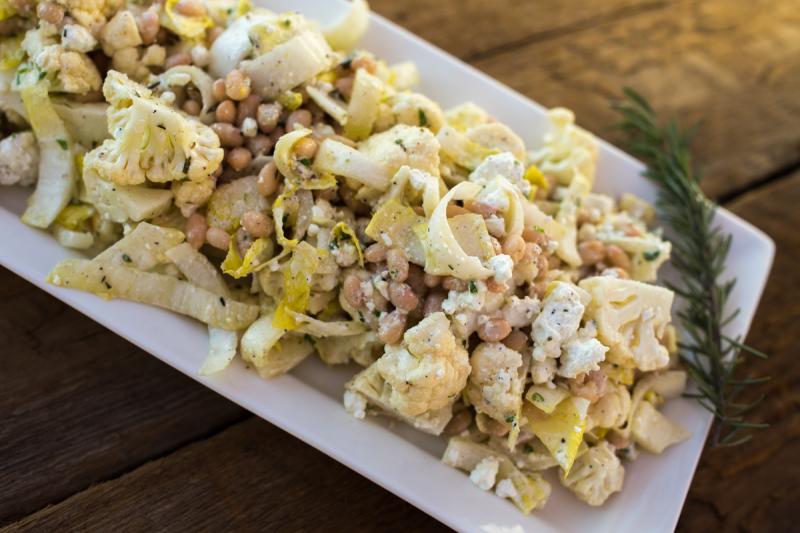 Spring is upon us here in Northern California and the change in season has us craving fresh, simple meals. Cauliflower seems to be popping up just about everywhere lately and we are here to proudly jump on the bandwagon and share one of our favorite new salads - Cauliflower, White Bean, Endive & Feta Salad. This meal makes a great main or side dish and keeps well for leftover lunches since the dressing is not very heavy. Cheers to spring-time eating!
Cauliflower, White Bean, Endive & Feta Salad
Ingredients
1/3 cup olive oil
1 teaspoon minced fresh rosemary
2 tablespoons fresh lemon juice
1 tablespoon red wine vinegar
2 ½ teaspoons finely grated lemon peel
1 ½ teaspoons salt
½ teaspoon ground black pepper
1 medium head cauliflower, trimmed, cut into small florets
1 (15-ounce) can navy beans, drained
3 heads of endive, trimmed, halved lengthwise, then thinly sliced crosswise
2 teaspoons fresh parsley
½ cup crumbled feta cheese (about 3 ounces)
Instructions
Combine oil and rosemary in small saucepan. Stir over medium heat just until fragrant, about 1 minute. Cool. Whisk lemon juice, vinegar, lemon peel, salt and pepper in small bowl. Combine cauliflower, beans, endive, chives, parsley and rosemary oil in medium bowl; toss. Mix in cheese. Add lemon juice mixture and toss to coat. Season salad with salt and pepper.
Adapted from Bon Appetit's Cauliflower, White Bean, and Feta Salad.