Endive in Deborah Madison's Vegetable Literacy
Submitted by
Molly Collins
on Tue, 03/19/2013 - 09:37
"I first met Deborah Madison in person in 1997 at the Annual Conference for the International Association of Culinary Professionals held that year in Portland, Oregon. Prior to that I had known her brother, Mike, a Davis farmer and neighbor, for many years. Deborah is an amazingly easy person to like. We quickly developed an appreciation for our respective links on the food chain and remain good friends." - Rich Collins, President California Endive Farms
We had the opportunity to ask Deborah a few questions regarding the inspiration for her new book, endive's role in Vegetable Literacy and the evolution of food taking place in America.
How you may know her: author of Vegetarian Cooking for Everyone
1. What inspired you to write Vegetable Literacy?
I'm not really sure it was one event; it was an idea I had in mind for quite a few years. But what made it come to life was having a garden and growing vegetables—that really opened my eyes to so much about plants and how we see them.
2. What is your favorite aspect of cooking with vegetables?
Aside from picking them, smelling them, touching them, I love to watch their transformation. When you make a soup, for example, all these amazing colors emerge that the cook gets to see, then after a while they fade. But before they do they're dazzling! Other vegetables get dingy looking, but then their flavor changes for the better. Visually, it's quite exciting to work with vegetables in any form, from the raw to the cooked.
3. Where do you like to buy your vegetables?
First I like to get them from my garden, then from the farmers market, followed by the co-op. And of course, it's great to trade vegetables with other gardeners who maybe grow what you can't, or who have an excess.
4. You feature multiple recipes with endive. How easily does endive incorporate into recipes and pair with other ingredients?
You can do a lot with endive. Of course it makes a most refreshing salad and it is so easy to slice up. Whether served that way or cooked somehow, I love it with walnuts and blue cheese or Gruyere or aged Gouda. What it pairs well with are those very cheeses and nuts, but also apples and pears, beets and celery root, butter and olive oil. And of course, you can take it over the top with cream, Gruyere and ham.
5. You mention the cost of endive in comparison to chips and crackers. Do you have a favorite endive appetizer?
I love the endive and beet caviar appetizer that I did in my book, Local Flavors. That is a standby that I make often. It's so pretty. Of course a crab salad would be very nice in an endive leaf as well.
6. What is your favorite way to prepare endive?
When it's cold out, I love to sauté it, add a little cream, and have it on toast for dinner. (This is a very fast.) I also like to halve an endive lengthwise, brush it with olive oil, and slowly grill (or griddle it, indoors) until it's tender and browned. A little lemon keeps the light color; the flavor becomes more complex and pronounced and a little sweet. I like it in a chopped salad with beets or with other chicories, like radicchio. When I have it, I just use it everyday.
7. Looking back thirty plus years at the evolution of food in America, what do you find most heartening? Of concern? A prediction or two for the future?
There's a lot that is heartening. Good farmers and small farms. School gardens. That more people are cooking again and are open to vegetables and other foods; that more people are growing gardens; that people are growing older foods, especially wheat's, that have been forgotten and trying to bring back fine milling, good dairy, farmstead cheeses and the like.
But on the other side, there's the GMO problem, the infiltration of Monsanto into the USDA, which is absolutely a horrendous development, the question of modern wheat and what it's doing to us, the prevalence and power of food manufacturers and the poor quality of their foods. It's discouraging to me that the USDA makes it so hard for good people to do good things with food, from opening a slaughterhouse to making a dairy or processing salsa. Even tasting foods at a farmers market!
We seem to be going in opposite directions at great speed. Where we'll end up? Who knows. But sometimes I fear that those of us who care about good food – not a fancy meal but a well-grown vegetable, a beautifully processed nut or plum, old but less glamorous looking varieties, especially of fruit, foods that nurture us and don't harm us—will have to increasingly provide for ourselves and in some cases, become almost secretive. Think about it: today it's easier to buy heroin or an automatic weapon than raw milk. I can't imagine that will be true of endive, though. Long live endive!
Griddled Endive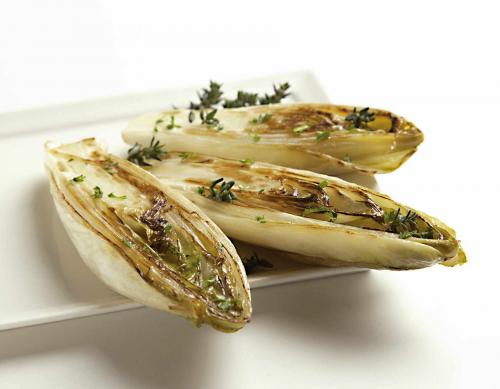 Nothing could be simpler than this dish. It can go with any number of sauces, such as Tarragon Mayonnaise or Orange Zest or Salsa Verde with Chinese Celery. Or you can just top the sliced endives with a sprinkle of finely chopped parsley, tarragon, or chervil. Goat cheese flavored with orange zest would also be good with the endives.
Select white endive chicons for this dish. Brush a ridged cast-iron griddle pan with olive oil and set over medium heat until hot. Meanwhile, slice the endives in halve lengthwise, drizzle with lemon juice, and season with salt and pepper. (The lemon juice keeps the endives pearly white.)
When the pan is hot, place the chicon halves, cut side down, on the pan and cook for 7 to 10 minutes. To get a crisscross of grill marks, pick up the chicon halves, rotate them 45 degrees after 5 minutes, place them again on the hot pan, and leave for the remaining time. Then turn the halves over and cook them on the uncut side until the endives are tender when pierced with a pairing knife. Serve with any of the suggested sauces or herbs.
"Reprinted with permission from Vegetable Literacy by Deborah Madison, copyright © 2013. Published by Ten Speed Press, a division of Random House, Inc."
Check to see if Deborah is making a stop in your area for a talk or book signing: Deborah Madison Calendar.
To purchase a copy of Vegetable Literacy, click here: Vegetable Literacy on Amazon.