Pomegranates, Gorgonzola & Walnuts in Endive
Submitted by
Molly Collins
on Tue, 12/10/2013 - 08:59
Tis' the season for festive colors & delectable flavors! For this appetizer we de-seeded a pomegranate for sweetness, crumbled gorgonzola for pungency, and roasted walnuts for toastiness. We combined them inside an endive leaf to create a festive appetizer, perfect for those upcoming holiday gatherings: healthy, colorful and delicious. Happy Holidays!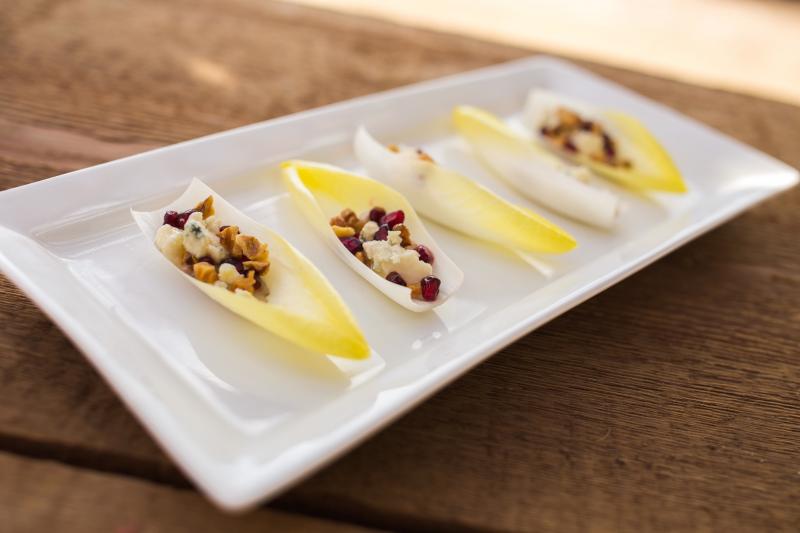 POMEGRANATES, GORGONZOLA & WALNUTS IN ENDIVE
DRESSING
5 tbsp rice vinegar
1/2 c. oil (canola or sunflower)
1 tbsp Dijon mustard
1 garlic clove, crushed
Combine all ingredients in bowl and whisk together until emulsified.
SALAD
1 cup Roasted Walnuts
1 Pomegranate or 1 cup pomegranate arils*
6 California endives
1 cup Gorgonzola, crumbled
Roast walnuts at 325 degrees for 13-15 minutes, or until golden brown. Cut and de-seed pomegranate. Separate endive heads into single leaves. Place pomegranate arils, gorgonzola and roasted walnuts in each leaf and drizzle with dressing.
*For helpful suggestions, take a look at Simply Recipes step-by-step guide on how to cut and de-seed a pomegranate.