Tastes of Harvest - Endive, Cranberries, Spinach & Roasted Walnuts Appetizer
Submitted by
Molly Collins
on Wed, 11/13/2013 - 09:04
Halloween has past us by and Thanksgiving is right around the corner. That means endive season 2014 is in full-gear - our 30th in California.
We love the idea of serving this simple appetizer at upcoming holiday gatherings. The flavors & colors of the spinach, cranberries, roasted walnuts and endive combine to create a beautiful and delicious finger salad. Easy to make and a pleasure to eat, the best of both!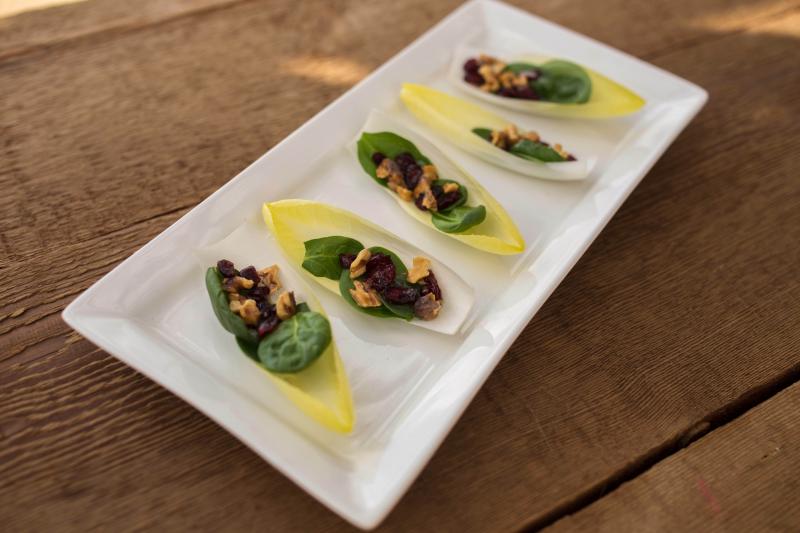 ENDIVE, CRANBERRIES, SPINACH & ROASTED WALNUTS APPETIZER
DRESSING
5 tbsp rice vinegar
½ c. oil (canola or sunflower)
1 tbsp Dijon mustard
1 garlic clove, crushed
Combine all ingredients in bowl and whisk together until emulsified.
SALAD
Roasted Walnuts
California Endive
Spinach
Cranberries
Roast walnuts at 325 degrees for 13-15 minutes, or until golden brown. Separate endive heads into single leaves. Fill each leaf with 2-3 leaves of spinach. Sprinkle cranberries and roasted walnuts in each leaf and drizzle with dressing.