Three Endive Appetizers For Super Bowl Sunday
Submitted by
Molly Collins
on Wed, 01/29/2014 - 08:58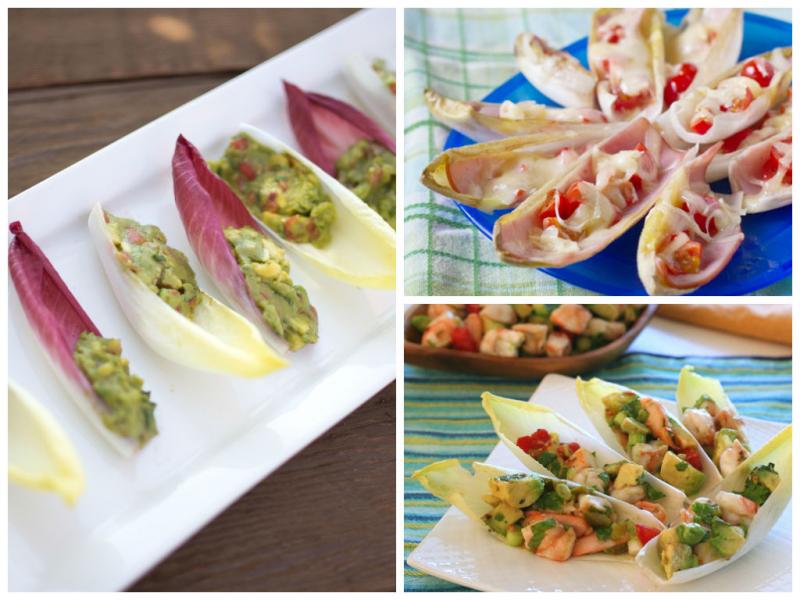 Super Bowl 2014 is here! I love snacking as much as the next person, but when possible, I try to make healthy food swaps to avoid over-indulging. Swapping out chips & crackers for endive leaves makes snacking enjoyable and healthy! Here are three easy, delicious appetizers that will hopefully give you some inspiration for healthy snacking this weekend...enjoy!
Avocado & Endive Appetizer
Ingredients
2 medium sized avocados
1 T lime juice
2 T plain greek yogurt
1/2 t ground cumin
2 T chopped fresh cilantro
24 endive leaves
Instructions
Peel, pit, and mash avocados; set aside. Combine 1 tablespoon lime juice, 2 tablespoons greek yogurt, 1/2 teaspoon ground cumin, and 2 tablespoons chopped fresh cilantro in a small bowl; stir in avocados. Spoon avocado mixture evenly into endive leaves.
Adapted from Health.com's Creamy Avocado Cups.
Ham and Cheese Endive Nachos
Ingredients
1 head endive, separated into leaves

2 ounces thinly sliced smoked ham

1/2 cup quartered plum tomatoes

1 ounce aged cheddar cheese, shredded
Instructions
1. Preheat the broiler (set on low heat for about 10 minutes).
2. Fan endive leaves out on a baking sheet. Place a small piece of ham inside each leaf. Fill each leaf with about 1 tablespoon of tomatoes, then sprinkle with shredded cheese.
3. Place under the broiler until the cheese has melted and the edges of the leaves are curling slightly, about 3 minutes. Remove from the oven and let cool for a couple of minutes before serving.
Rachael Hutchings is one of five food bloggers associated with our OnDiva ambassadorship. She is the author behind the food blog, La Fuji Mama.
Shrimp and Avocado Ceviche in Endive
Ingredients
1 lb fresh shrimp, jumbo size, peeled and deveined
1 1/4 cups fresh lime juice
1 large tomato, chopped
1 or 2 jalapenos, seeded and minced
4 scallions, chopped, white and light green parts only
1/4 cup cilantro leaves, chopped
3/4 tsp kosher salt
1/2 tsp cracked black pepper
1 ripe avocado, chopped
Half a lime
2 heads endive, leaves separated
Instructions
Chop shrimp into 1/2 inch pieces. In a deep bowl, combine shrimp and lime juice so that shrimp is completely covered by juice and pieces float freely so they can marinate on all sides. Cover and refrigerate for 4 hours. In a large bowl, combine chopped tomato, jalapenos, scallions, cilantro, salt and pepper. Drain shrimp in a colander and add to bowl. Toss to combine well. Gently toss in chopped avocado. Squeeze lime over. Spoon one or two tablespoons of ceviche into endive leaves and serve. Alternatively, you can put ceviche into a serving dish and place endive all around it for guests to serve themselves.
Carolyn Ketchum is also one of the five food bloggers associated with our OnDiva ambassadorship. She is the writer and recipe developer behind the food blog, All Day I Dream About Food.