California Endive at Dr. Oz's HealthCorps Fundraiser
California Endive Farms, the major producer of Belgian-style endive in America, recently supported TV health guru Dr. Oz and his HealthCorps foundation at a fundraiser in Sacramento, Calif. Both Rich Collins, founder and president of California Vegetable Specialties, and his wife, Shelly, are big advocates of the HealthCorps mission.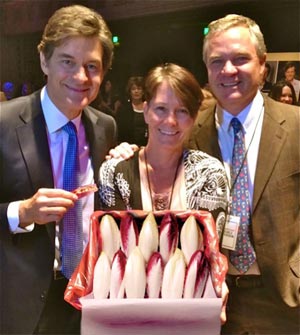 HealthCorps, started in 2003 by Dr. Oz, fights obesity and mental resilience crisis in America by getting students and their families to become health agents of change in communities across the country.
Similar to the Peace Corps, HealthCorps chooses young adults to defer medical school and commit two years to working at schools, where they teach nutrition and fitness classes, run cafeteria demos, hold after school cooking and fitness clubs, and serve as mentors for high school teenagers.
Photo: Dr. Mehmet Oz, with Shelly and Rich Collins, founders of California Endive Farms, the major endive producer in America, at a fundraiser in Sacramento, Calif., for Dr. Oz's Health Corps foundation.