Whole Foods Pineapple Shrimp In Endive Leaves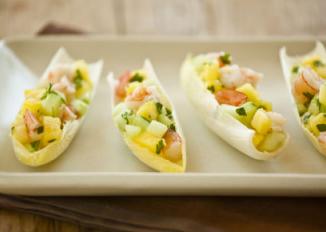 Ingredients
1/2 pound cooked, peeled shrimp, tails removed
1 large cucumber, peeled, seeded and diced
2 1/2 cups diced pineapple (from about 1/2 fresh pineapple)
1/4 cup chopped cilantro
3 tablespoons lime juice
3 heads endive, separated into individual leaves
Instructions
Chop shrimp and place in a large bowl. Add cucumber, pineapple, cilantro and lime juice and stir to combine. Arrange endive leaves on a serving platter. Spoon about 2 tablespoons of shrimp mixture into each endive leaf and serve. Makes about 32 stuffed endive leaves.
Nutrition Information
Per serving (1 stuffed endive leaf):
20 calories (0 from fat), 0g total fat, 0g saturated fat, 10mg cholesterol, 20mg sodium, 3g total carbohydrate (2g dietary fiber, 1g sugar), 2g protein
Thanks to Whole Foods Market
Discover more endive recipes on endive.com.